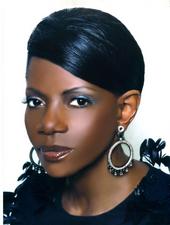 Born in New York City, Melba started her career in 1967 with a role in the musical Hair. In 1970, Moore won a Tony Award for Best Performance by a Featured Actress in a Musical for her role in Purlie (She portrayed Lutiebelle). In 1978 she appeared (as Marsinah) with Eartha Kitt in Timbuktu!.
By the 1970s Moore started focusing on music with many hits in the late 1970s through the mid 1980s. Her 1975 debut album, Peach Melba, earned her a Grammy nomination for Best New Artist. In 1976, she earned a Grammy nomination for Best Rhythm & Blues Vocal Performance - Female for the song "Lean On Me", in which she held a 35-second note. Some of her other hits include "You Stepped Into My Life", "Love's Comin' At Ya", "This Is It", "The Greatest Feeling", "A Little Bit More" and "Read My Lips". Moore often collaborated with R&B crooner, Freddie Jackson.
Her 1990 recording of "Lift Every Voice and Sing" was instrumental in having that song entered into the Congressional Record as the official African-American National Anthem.
More recently, Moore has been focusing on gospel recordings whilst still appearing in occasional Broadway shows. In 2003, she was featured in the film, The Fighting Temptations, which starred Cuba Gooding, Jr. and Beyoncé Knowles

Listen to some of Melba's songs:
Lean On Me


You Stepped Into My Life


My Heart Belongs to You