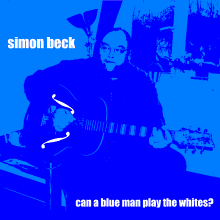 Simon Beck is a self-taught multi-instrumentalist specialising in blues-based music of all kinds. His main instruments are keyboards and bass guitar, but he has been known to play chromatic harmonica, percussion, rhythm guitar, double-bass and Theremin.
Simon taught himself to play harmonica, bass and piano during his mid-teens and formed his first gigging band at the age of 18. Moving to London a year later, he found himself playing bass and keyboards in a wide range of line-ups, from jazz bands to electropop duos. By the late-'90s, he had become a founding member of Mississippi John L Watson's legendary 8-piece Odyssey Blues Band, playing live on Andy Kershaw's Radio 1 show, recording an acclaimed album, "Ass Kickin' Time", and appearing at major blues events in the UK and Ireland.
Recent years have seen Simon concentrating on his distinctive blues and boogie-woogie piano styles, often backed by his own bass guitar playing. He is currently working on an instrumental solo album "Can a Blue Man Play the Whites?"
As well as being a musician, Simon is also a world authority on vintage electric pianos. You can see his "Hall of Electric Pianos" website here .
Listen to some of Simon's playing:
Watermelon Man* (electric piano, bass guitar, chromatic harmonica)


Boogie no. 1 (solo piano)

Late O'Clock Blues (electric piano, bass guitar)

Guitar Not Included (piano, bass guitar, organ)

*Composed by Herbie Hancock. All other material composed by Simon Beck